When you email resources from your iPhone, you are able to use your default Apple Mail App or a 3rd party Mail App.
There are 2 ways to email your prospect:
1. If you use a different account, such as Gmail, Outlook or your company email, you can add that account to your default Mail App. Please click on the link to learn how to add email accounts: Set up an email account on your iPhone, iPad, or iPod touch
2. If you have a 3rd party Mail App downloaded on your iPhone, you will be able to choose which email app you want to use when you get to the email screen.
Note: If you send a resource using a 3rd party Mail app, the resource will not show as 'Sent' in the Activity Log, but when your contacts click or view the resource link, it will show as 'Clicked'.
If you need to change the 'From' address when sending iOS mail:
Mail on the iPhone, iPad and iPod touch will use the default email address when composing a new message. To temporarily change the From address when sending mail from iOS, follow these steps:
1. Open the Mail app and compose a new message.
2. Tap the field labeled Cc/Bcc, From:
3. Then select the From: field
4. Scroll up or down to choose from the list of email accounts on your device
5. When the desired email address is highlighted, tap the Subject: field to continue composing the email
6. The email will be sent from the selected address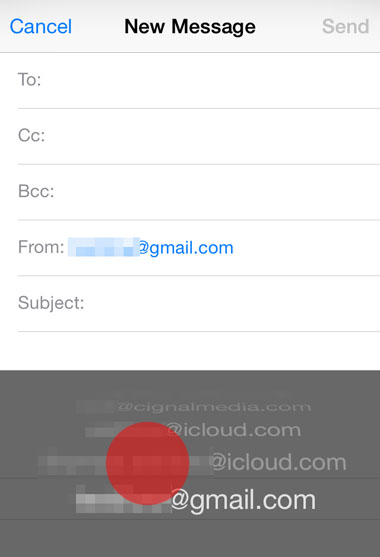 Your default address is determined in your Mail settings. To change your default account, go to
Settings -> Mail -> Scroll down to the bottom -> Default Account